Scoil Assaim is an Active School! Being active is part of our daily routine. We have already achieved two Active flags, the second of which proudly flies outside our school! This year we are applying for our third Active Flag. This is a whole school collaborative process which we are wholeheartedly looking forward to. The Active School Flag initiative is a Department of Education and Skills initiative supported by Healthy Ireland aiming to encourage schools to be more active, more often! For more information about this initiative check out the details on the website http://www.activeschoolflag.ie .
Physical Education
Curriculum
As part of the Active School Flag process, the staff at Scoil Assaim reviewed the current status of Physical Education across the school at the beginning of this academic year, to ensure that all pupils are provided with a minimum of 60 minutes of timetabled PE per week. All classes are to be taught at least 5 different PE strands each year, using the PSSI and PDST lesson plans and resources. PE has always been considered a vital element of the curriculum taught at Scoil Assaim. This is reflected through PE feedback and discussion at PT meetings, and is included in all annual school reports alongside other curriculum subjects. Staff have undertaken CPD in PE within the past 12 months, and all new ideas, knowledge and strategies have been shared amongst colleagues at our regular meetings. Each year we prioritise one particular PE strand to be further developed, eg. last year we focused on Athletics. This year we are focusing on the Games strand. This decision was made amongst staff after considering the potential implications from Covid/Lockdown. It was felt that the social and fun aspect of Games was the most affected by Covid and in some cases and it was obvious that some children needed to 're-learn' how to play with one another again, ie. taking turns, sharing, etc. A focus on Games would not only develop physical skills through exercise, but also promote the social interaction that has been lacking in recent times. Games also help to develop social, mental and physical skills that are proven necessary for positive wellbeing. Teachers have also committed to set active homework, focusing on Games, at all class levels. A sample of different active homework ideas can be seen in the document below:
Active-Homework

Games:
As we have chosen Games as our focus PE strand for this year, classes across the school have embarked on a range of interesting activities to develop this strand further. All teachers have expertise in this strand and at our regular meetings, we encourage each other to share our employed strategies with one another. As well as our own expertise in Games, we have also reached out to our local community for their input. Through this we have invited coaches from various clubs to engage in short coaching sessions with our pupils. We are delighted to have Ray from Leinster rugby coordinating rugby sessions with the boys. Colly from Raheny GAA is thoroughly enjoying showing our second and third classes the fundamental Gaelic football skills every Friday. Fintan from Leinster cricket introduced cricket to our fifth and sixth class boys which is proving to be very popular. In additon to the variety of games being taught in PE lessons, Scoil Assaim boys are heavily involved in team sports, with school teams for basketball, soccer, senior and junior hurling and football and volleyball! The boys have been busy competing in a variety of mini leagues, to include GAA (Cumann na mBunscoil League), soccer and spike ball. We also organise our own Scoil Assaim GAA and Soccer Tournaments for local schools to keep the flag flying in the active department!
Basketball is very popular among the students this year, and with new basketball nets in place on our yard, there is lots of practice taking place at break times too!
Gymnastics:
Each class make use of our gymnastics equipment to teach the gymnastics strand of the PE curriculum. There are lots of excellent gymnasts among Scoil Assaim boys, and quite a few participate in gymnastics classes within the local area too. Take a look at these balancing acts in 2nd Class as they combined their gymnastics and yoga skills in some impressive moves!
PE Equipment
PE equipment is audited at least once per year. The school PE equipment and resources are well organised within an allocated PE equipment room, easily accessible to all staff members. We have recently carried out an audit on all equipment, disposing of broken items and purchasing replacement and additional equipment.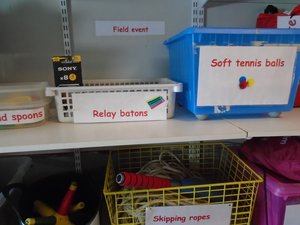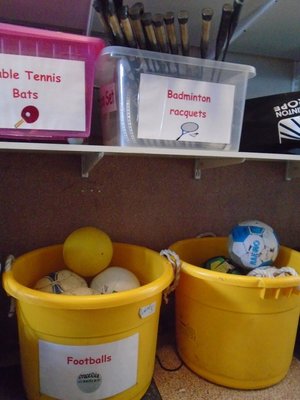 We have also recently acquired 4 new basketball nets on our school field, making a 10 total of basketball nets between both break time areas. We also purchased two new table tennis tables which have been a huge hit with the students at break times and PE!
After School Club and Camps
Teachers also offer a weekly after school club for Scoil Assaim students – Sport N' Stuff. This is very popular amongst students and parents alike, as the activities include a variety of sports and activities, to include badminton, basketball, high jump and a range of ball games to name but a few!
A sports camp is also offered to students during the Easter and Summer holidays. The Games strand is also incorporated into the skills taught at camp in the form of a different sports and playground games within the school grounds.
Physical Activity
Active Playground!
At Scoil Assaim, we promote an active playground and children are encouraged to keep as active as possible during break times. There are two outdoor breaks timetabled per day, and on days where weather does not permit outdoor activities, teachers incorporate classroom-based physical activities to compensate. Teachers also use active websites such as GoNoodle and Class Dojo to facilitate short physical breaks during the school day. Children are guided to participate in a variety of activites on yard, to include basketball, soccer and games. It is ensured that sufficient sports equipment is available to students at all times.
Senior students have been trained to act as Playground Leaders, and their job is to guide and monitor younger students through various activities during break times. This was a great success the past few years however, the impact of Covid-19 has hindered our progress here. As soon as restrictions are lifted, we aim to have our Playground Leaders return to the younger students with loads of enthusiasm and to introduce a wide variety of fun games.
Active Walkway
Teachers and students of our Active School Committee have been busy designing and creating an Active School Walkway around the school, to encourage lots of steps! Below is a sneak peek of our teacher guidelines for the active walkway:

Marathon Kids Ireland
The 5th and 6th class boys at Scoil Assaim had great fun earlier in the year participating in the Marathon Kids Ireland Challenge. This is an 8- Week Programme. Both South Dublin County Council and Fingal County Council and Dublin City Council have organised this to help outline the benefits of sport and physical activity. Each day the boys are required to run a certain distance and after the 8 weeks are completed, the total distance equates to a full marathon! (42.195km)! Each week the boys will also learn about a different benefit that physical activity can have on them such as mental and social benefits.
Christmas Fitness!
Never an opportunity missed by the boys to incorporate fitness and fun into their school work! The boys in 5th and 6th Class created an Active Advent Calendar for every class in the school, so instead of daily chocolate treats behind each day on the calendar, there were daily active challenges to be done by the class!
They also came up with a '12 days of Fitmas' activity, a clever play on the traditional Christmas song, with burpees and high knees replacing swans and gold rings!
Dance
Before the Hallowe'en midterm, the boys in Ms. Goodall's class learned a dance, turning them into spooky scary skeletons. The boys create some of the dance moves themselves, discussing how a skeleton might move or walk and included these in the dance. The song they danced to was 'Spooky Scary Skeletons' by Andrew Gold.
Partnerships
St.Annes Astro
For the past two years, Scoil Assaim have been lucky to avail of weekly slots in the local St.Anne's Park astro pitches. The boys clock up lots of steps on their Fitbits too with a lovely brisk ten minute walk to the pitches and back! The astro is an ideal ground for practice sessions of GAA, soccer, cricket, rounders and much more. We also have a mini soccer league in each class. This is a set of multiple round robin games each week. After a set amount of weeks, our points are accumulated and we announce our winners. Here are the champions of Room 2's recent astro league below:
Raheny GAA Club
Scoil Assaim have also teamed up with the local Raheny GAA club, with regular courses of GAA lessons with one of their coaches on the GAA club astro pitch. Our coach Colly, is currently working with our 2nd and 3rd class boys.
Local Park Runs
The local park runs recently returned to St.Annes Park. These park runs are regularly promoted in Scoil Assaim, and lots of the students participate in them on a weekly basis.

Leinster Rugby Club
We are lucky to have a representative from Leinster Rugby visiting during the year to deliver a training sessions to to the students! Ray is currently doing weekly sessions with both 5th and 6th classes. In the New Year Ray hopes to have some with junior classes and possibly of organise a senior multi-school blitz. Below is a sneak peak of Ray at work with our lads:
Futsal:
Keith from FAI has been taking our 2nd, 3rd and 4th classes for weekly Futsal sessions in our school hall. Here Keith has demonstrated some basic skills for soccer and has equipped our teachers with lesson plans. Our staff at these levels will perform these lessons in the future.
Cricket:
Fintan, the Cricket Development Officer from Dublin City Council, has been running weekly crickets sessions with the boys from 5th and 6th classes in Scoil Assaim. These sessions have taken place in St. Annes Astro and have proven extremely popular amongst the boys.
Parents
Scoil Assaim parents regularly volunteer to assist with sporting activities throughout the year, particularly on Sports Day! The Parents' Association have their organisation for Sports Day down to a tee, and never fail to impress! We recently sent out a questionnaire to our parents to help us improve our overall delivery of Physical Education.

Active School Week
We plan hold our Active School Week on 4th – 8th April this year, and the boys and staff will enjoy a fun week full of activities! The boys will practised lots of yoga moves with our visiting yoga instructor, and the Clontarf Cricket Club will show them some skills on the field! The 6th Class boys will treat the rest of the school to circuits on the yard(Covid restriction pending); they will make sure that everyone is participating to their best ability! Teachers will also give active homework every day for Active School Week. Have a look below at our 'Active Assaim' plan for April.
Active-Week-22

A Super Slogan!
The Active School Flag Committee were very busy searching for a super slogan! They asked each class to do brainstorming sessions to come up with their best ideas! Here they are collecting ideas from each class!
Finally the winning slogan was chosen!
Luke O'Byrne and Conor O'Doherty from fourth class receiving their prize from Josh and Archie in sixth class for winning the ASF Slogan competition with their joint entry:
"Lose the Apps, do the Laps. Mute the Screen. Be an Active Machine!"
The committee have put the slogan up on posters all around the school so everyone can be motivated on a daily basis!