Scoil Assaim is an Active School! We were recently awarded with the Active Flag and it is flying proudly outside our school! The Active School Flag initiative is a Department of Education and Skills initiative supported by Healthy Ireland aiming to encourage schools to be more active, more often! For more information about this initiative check out the details on the website http://www.activeschoolflag.ie .
Physical Education
Curriculum
As part of the Active School Flag process, the staff at Scoil Assaim reviewed the current status of Physical Education across the school. We ensured that all pupils are provided with a minimum of 60 minutes of timetabled PE per week and that all classes are taught at least 5 different PE strands each year, using the PSSI and PDST lesson plans and resources. PE has always been considered a vital element of the curriculum taught at Scoil Assaim, and is reflected as such as PE feedback is discussed in PT meetings, and included in all annual school reports alongside other taught subjects. Staff have undertaken CPD in PE within the past 12 months, and all new ideas, knowledge and strategies have been shared among all staff. We have also chosen to prioritise one particular strand each year to be further developed. This year we are focusing on the Outdoor and Adventure strand. Teachers have also committed to set active homework at all class levels.
Outdoor and Adventure:
As we have chosen Outdoor and Adventure as our focus PE strand for this year, classes across the school have embarked on a range of interesting activities to develop this strand further, and the students have really enjoyed putting their exploratory skills to the test through orienteering, trail activities and treasure hunts! Take a look at some of the snaps below to get a taste for the adventure!
Seachtain na Gaeilge
The boys in each class mixed their orienteering and Gaeilge skills to complete 'Tóraíocht Taisce' following maps of the school grounds to hunt for words to complete sentences as Gaeilge! They also participated in 'cluichí clós' where they had to match up hidden pictures and words – no cone was left unturned!
History Walking Tour
4th Class were getting fit while soaking up some local history on their Local History Tour earlier this year. The boys followed a trail to search for local historical sites. A great way to explore Raheny!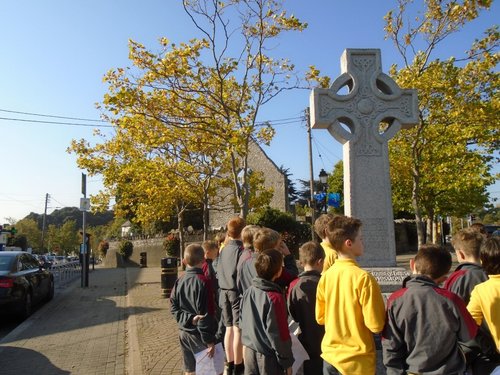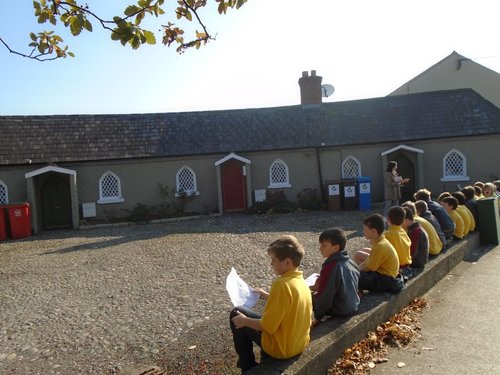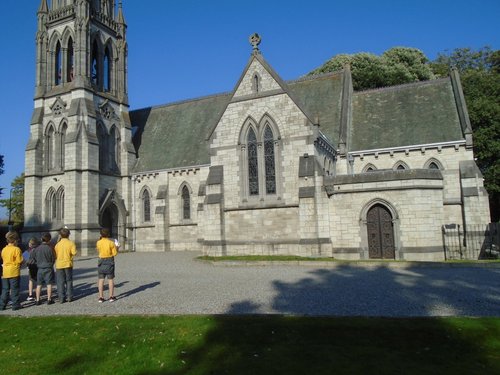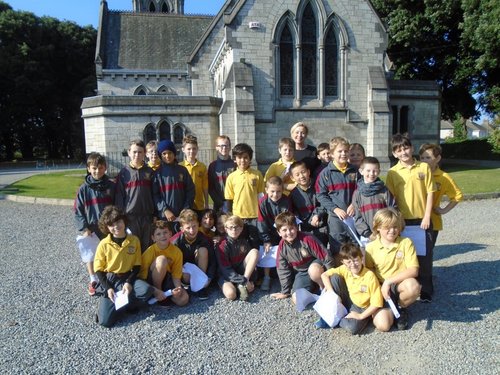 Maths and Easter Trails
2nd Class have been having lots of adventures this year! On Valentine's Day, they were busy hunting around the school for fractions, and at Easter time they completed a series of active challenges in order to collect Easter eggs! View fullsize View fullsize View fullsize View fullsize View fullsize View fullsize View fullsize View fullsize View fullsize View fullsize View fullsize View fullsize View fullsize View fullsize


Athletics:
Sport Ireland
Teachers have also been linked up with Sport Ireland to deliver a 10 week athletics programme, teaching a wide range of athletics skills through weekly class challenges. Check out this tracker sheet for 3rd Class – well done on completing all of your challenges boys!
Santry Athletics Competition
Each year, boys from 3rd class to 6th class participate in trials for the Santry Athletics Competition. The boys put lots of training in before the event and had a great day competing! Here are a few pics of them on the day! Well done boys! View fullsize View fullsize
Dance: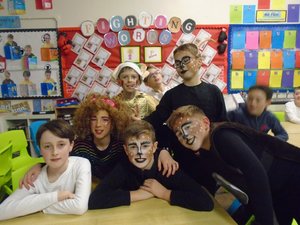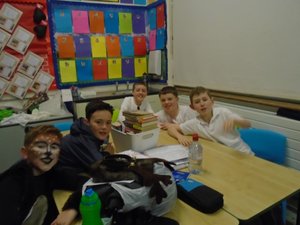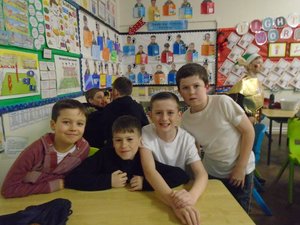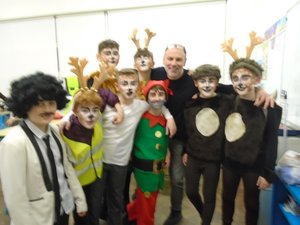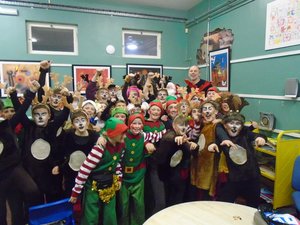 Christmas Show!
The Dance strand came into full force in the lead up to our Christmas Show, and the boys were put through intense training sessions by an amazing local dance teacher in preparation for the stage! The result was brilliantly choreographed group dances which had the audience in awe! The boys learned that when it comes to dance, practice makes perfect; but they also had lots of fun! Here are a few pictures of the dancers behind the scenes on the night!
Games: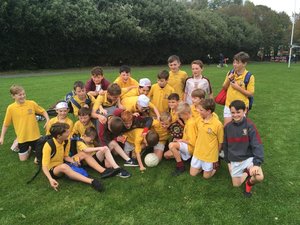 In additon to the variety of games being taught in PE lessons, Scoil Assaim boys are heavily involved in team sports, with school teams for basketball, soccer, senior and junior hurling and football and spikeball! The boys have been busy competing in a variety of mini leagues, to include GAA (Cumann na mBunscoil League), soccer and spike ball. We also organise our own Scoil Assaim GAA and Soccer Tournaments for local schools to keep the flag flying in the active department!
Basketball is very popular among the students this year, and with new basketball nets in place on our yard, there is lots of practice taking place at break times too!
The 5th and 6th class boys have been training for the Dublin Primary Schools Mini-Basketball tournament, and all those early mornings paid off when they came back with the winning trophy on the day! Amazing result!!
Last year, Scoil Assaim was extremely proud of their soccer team, as they participated in the Spar Soccer Cup. The boys went from strength to strength and proceeded to win the cup at the Aviva Stadium! A super achievement, which was rewarded by a surprise ice-cream van visit to school, and the boys held a Q and A session with the rest of the students!
Gymnastics:
Each class make use of our gymnastics equipment to teach the gymnastics strand of the PE curriculum. There are lots of excellent gymnasts among Scoil Assaim boys, and quite a few participate in gymnastics classes within the local area too. Take a look at these balancing acts in 2nd Class as they combined their gymnastics and yoga skills in some impressive moves!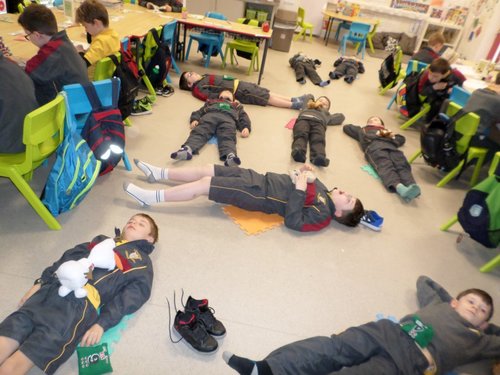 PE Equipment
PE equipment is audited at least once per year. The school PE equipment and resources are well organised within an allocated PE equipment room, easily accessible to all staff members. We have recently carried out an audit on all equipment, disposing of broken items and purchasing replacement and additional equipment.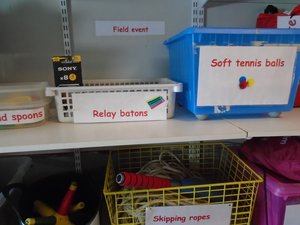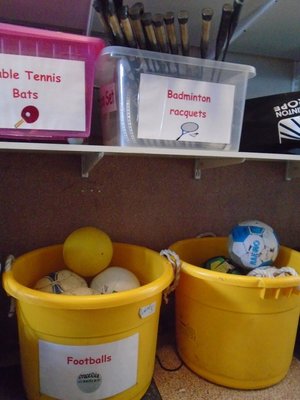 We have also recently installed new basketball nets on our school yard, making a total of 6 basketball nets which have been a huge hit with the students at break times and PE!
After School Club and Camps
Teachers also offer a weekly after school club for Scoil Assaim students – Fitness for Fun! This is very popular amongst students and parents alike, as the activities include a variety of sports and activities, to include badminton, basketball, high jump and a range of ball games to name but a few!
A sports camp is also offered to students during the Easter and Summer holidays. The Outdoor and Adventure strand is also incorporated into the skills taught at camp in the form of a Easter Egg hunt around the school grounds.
Physical Activity
Operation Transformation!
Scoil Assaim were as fit as could be after a great few weeks of Operation Transformation in March of this year! Every day after small break, the whole school participated in bursts of exercises lead by Lisa on the microphone, and a few helpers each day to demonstrate the moves! The boys made great progress with their fitness, and had great fun too! Well done Scoil Assaim!
We decided to make this a permanent feature of our day at Scoil Assaim, and the boys have been perfecting their fitness skills daily! Here are the 6th Class students who keep everyone in check and motivate the boys to keep going!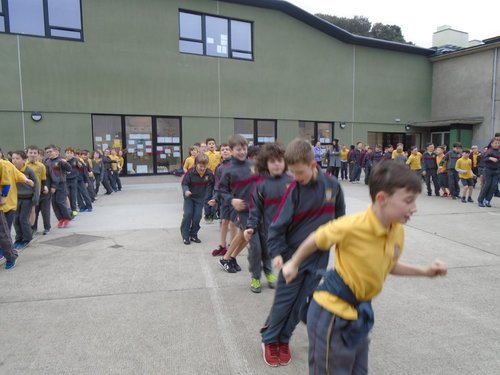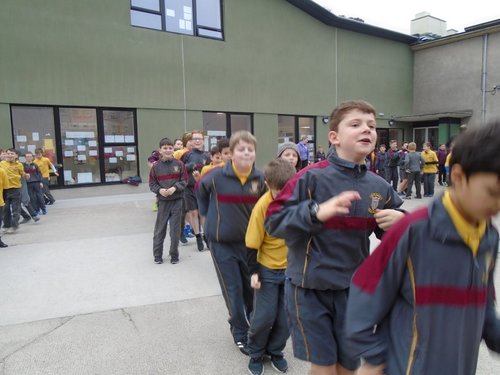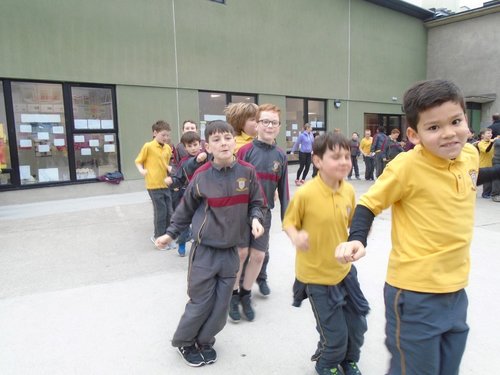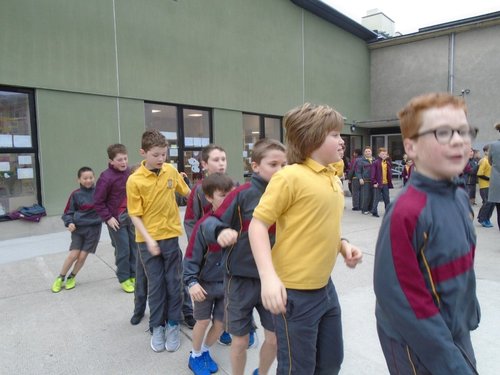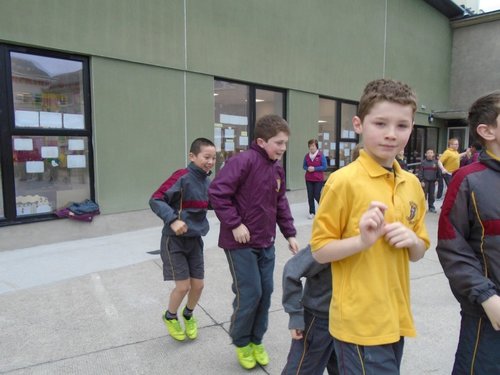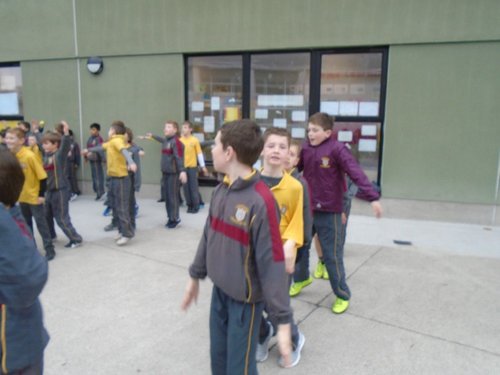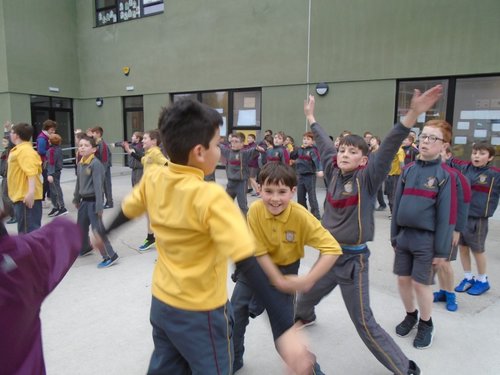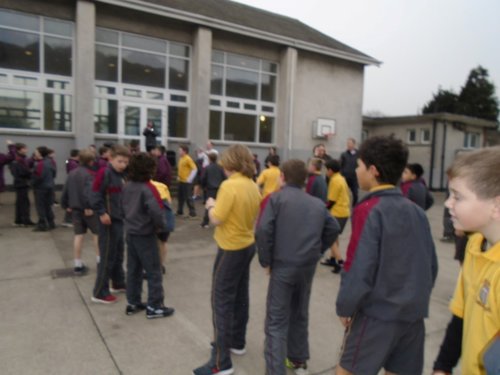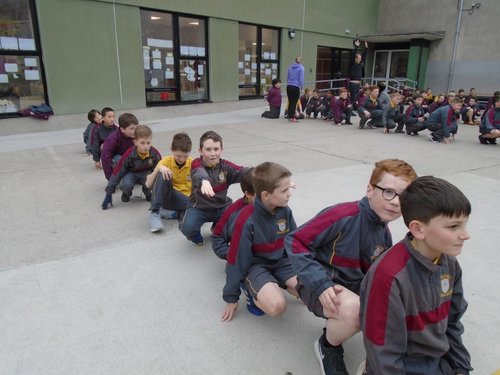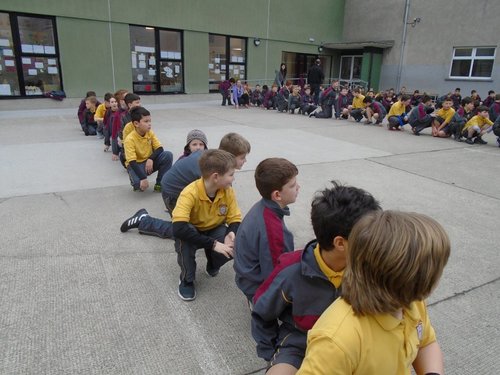 Active Playground!
At Scoil Assaim, we promote an active playground and children are encouraged to keep as active as possible during break times. There are two outdoor breaks timetabled per day, and on days where weather does not permit outdoor activities, teachers incorporate classroom-based physical activities to compensate. Teachers also use active websites such as GoNoodle and Class Dojo to facilitate short physical breaks during the school day. Children are guided to participate in a variety of activites on yard, to include basketball, soccer and games. It is ensured that sufficient sports equipment is available to students at all times.
Senior students have been trained to act as Playground Leaders, and their job is to guide and monitor younger students through various activities during break times. This has been a great success! Take a look at some of the leaders in action! View fullsize View fullsize View fullsize View fullsize View fullsize View fullsize View fullsize View fullsize View fullsize View fullsize View fullsize View fullsize View fullsize View fullsize View fullsize View fullsize View fullsize View fullsize
Active Walkway
Teachers and students of our Active School Committee have been busy designing and creating an Active School Walkway around the school, to encourage lots of steps! Stay tuned to see pictures!

Run Around Europe Challenge
The boys at Scoil Assaim had great fun earlier in the year participating in the Run around Europe Challenge, where one lap of the field = one kilometre! Each class chose a country capital that they would like to reach, and persevered until they had reached their destination! This was a great way to learn more about capital cities of Europe, while keeping fit at the same time! Well done on reaching your destinations boys!
Christmas Fitness!
Never an opportunity missed by the boys to incorporate fitness and fun into their school work! The boys in 5th and 6th Class created an Active Advent Calendar for every class in the school, so instead of daily chocolate treats behind each day on the calendar, there were daily active challenges to be done by the class!
They also came up with a '12 days of Fitmas' activity, a clever play on the traditional Christmas song, with burpees and high knees replacing swans and gold rings!
Partnerships
St.Annes Astro
For the past two years, Scoil Assaim have been lucky to avail of weekly slots in the local St.Anne's Park astro pitches. The astro is an ideal ground for practice sessions of GAA and soccer, and blitzes between classes often take place. The boys clock up lots of steps on their fitbits too with a lovely brisk ten minute walk to the pitches and back! Here are a few pictures of the boys playing on the astro in their Halloween costumes! View fullsize View fullsize View fullsize View fullsize
Raheny GAA Club
Scoil Assaim have also teamed up with the local Raheny GAA club, with regular courses of GAA lessons with one of their coaches on the GAA club astro pitch. All classes participate in these sessions.
Scoil Assaim are also extremely proud of some of our past pupils, who now play GAA for Dublin! The boys were ecstatic when they had a visit from Brian Fenton and Brian Howard with the Sam Maguire in October of this school year. The players spoke to the boys about GAA and how important it is to keep fit!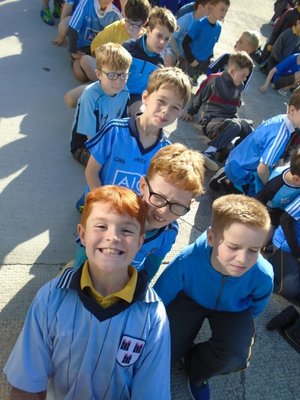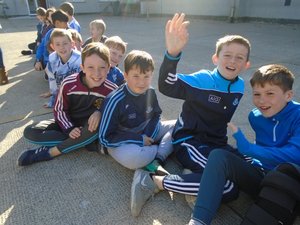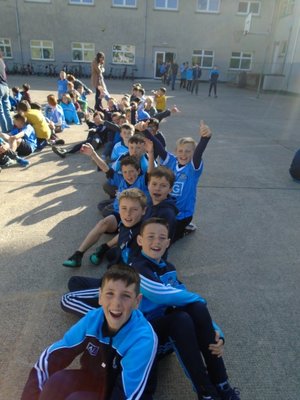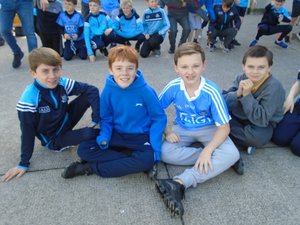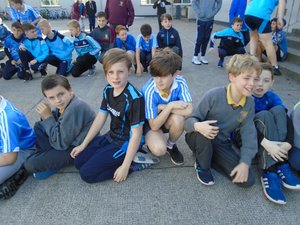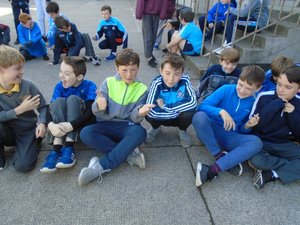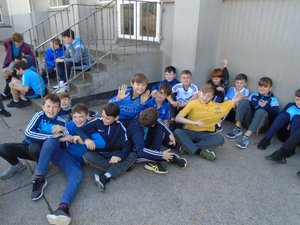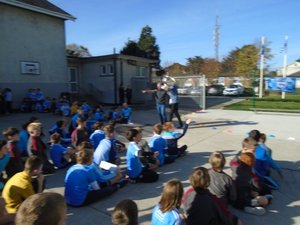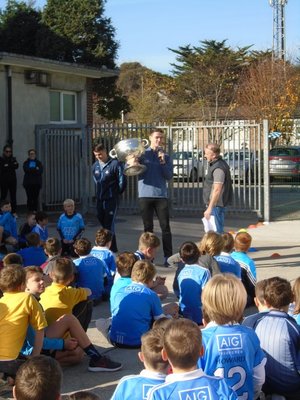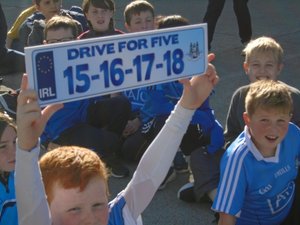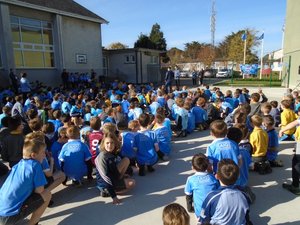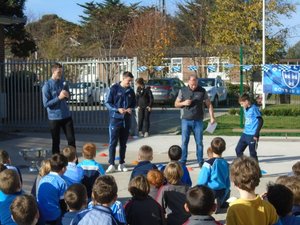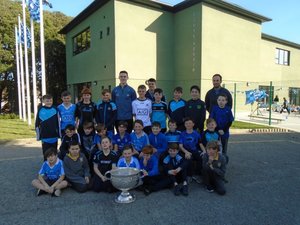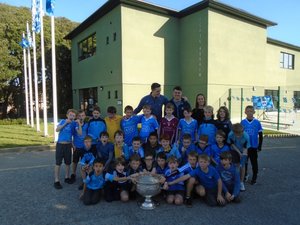 Tennis Ireland
Tennis Ireland gave staff members of Scoil Assaim a taster training session; a well worthwhile session with lots of useful tennis teaching tips! Teachers then put their skills to practice in their classes and continue to do so.
Local Park Runs
At Scoil Assaim, the local park runs in St.Annes Park are regularly promoted, and lots of the students participate in this on a weekly basis. Take a look at some of the boys taking part recently.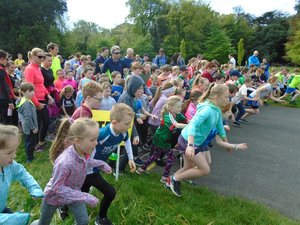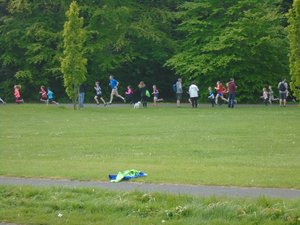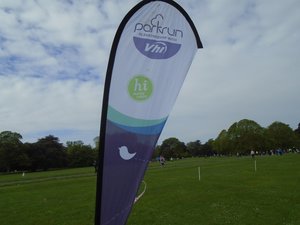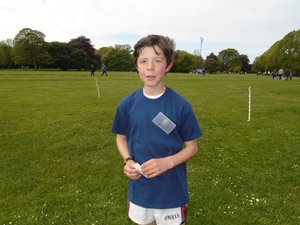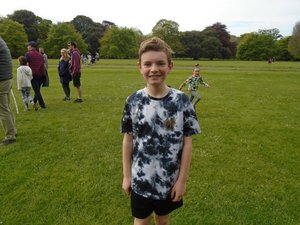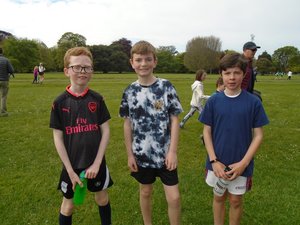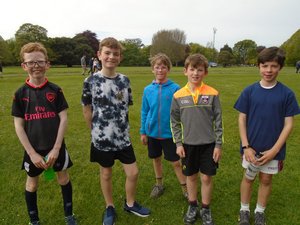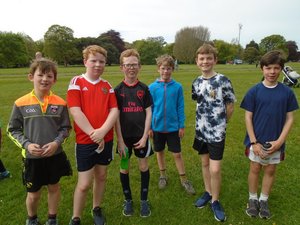 Clontarf Rugby Club
We are lucky to have representatives from Clontarf Rugby Club visiting during Active School Week this year to deliver a training session to staff and taster sessions to the students ! We look forward to getting lots of rugby tips!
Croke Park
6th Class students recently enjoyed a trip to Croke Park, which we are lucky to have so close to us here; just a short bus journey away from our school! They got a tour of the stadium grounds, learned lots of interesting facts and braved an adventurous walk to the upper levels of the stadium!!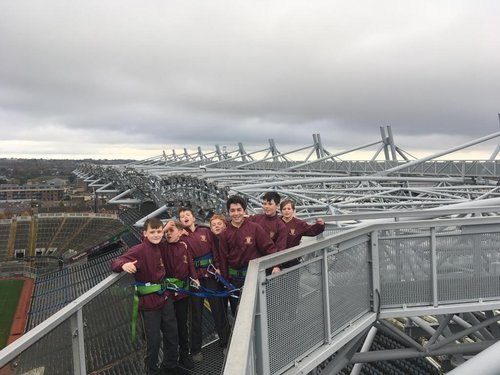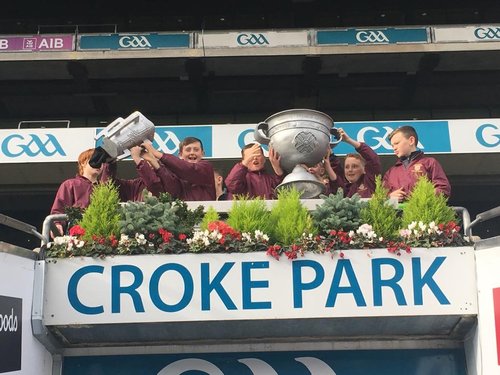 Parents
Scoil Assaim parents regularly volunteer to assist with sporting activities throughout the year, particularly on Sports Day! The Parents' Association have their organisation for Sports Day down to a tee, and never fail to impress!

Active School Week
We held our Active School Week on 17th – 24th May this year, and the boys and staff enjoyed a fun week full of activities! The boys practised lots of yoga moves with our visiting yoga teacher, and the Clontarf Cricket Club showed them some skills on the field! The 6th Class boys treated the rest of the school to circuits on the yard; they made sure everyone participated to their best ability! Teachers also gave active homework every day for Active School Week. Take a look at some of the 'Active Assaim' boys in action! View fullsize View fullsize View fullsize View fullsize View fullsize View fullsize View fullsize View fullsize View fullsize View fullsize View fullsize View fullsize View fullsize View fullsize View fullsize View fullsize View fullsize View fullsize View fullsize View fullsize View fullsize View fullsize View fullsize View fullsize View fullsize View fullsize View fullsize View fullsize View fullsize View fullsize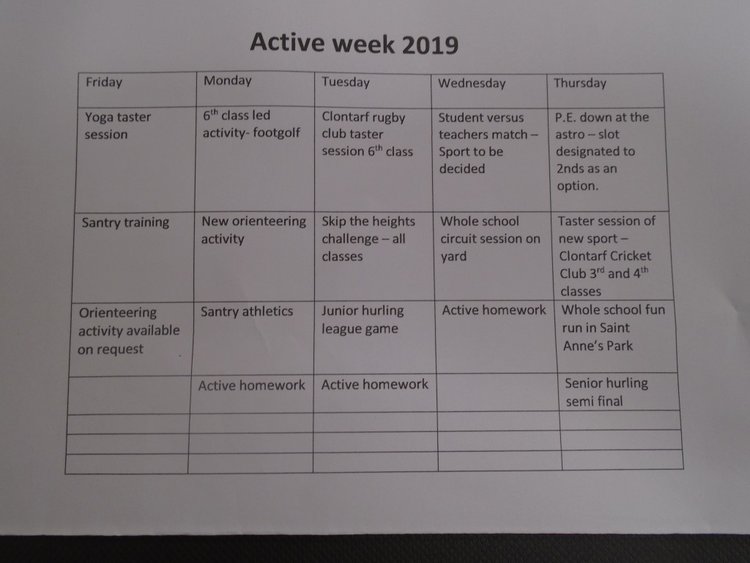 A Super Slogan!
The Active School Flag Committee were very busy searching for a super slogan! They asked each class to do brainstorming sessions to come up with their best ideas! Here they are collecting ideas from each class!
Finally the winning slogan was chosen!
"Get out of your seat, get on your feet, GET ACTIVE!"
The committee have put the slogan up on posters all around the school so everyone can be motivated on a daily basis!
Suggestion Box
The boys have also been brainstorming ideas for Active School Week this year and all ideas have been collected in our suggestions box. Some super suggestions from across the school!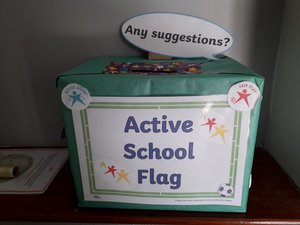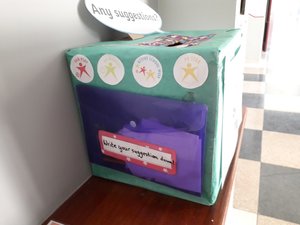 Parental Involvement
We are lucky to have a range of skills amongst the parents of Scoil Assaim students! Volunteers are always welcome to share their skills, just like our Taekwondo instructor last year! This year, we have parents visiting to work on orienteering with the boys, to tie in with our focus on the Outdoor and Adventure strand.