Scoil Assaim is a senior boys' school in Raheny; we have classes from Second to Sixth.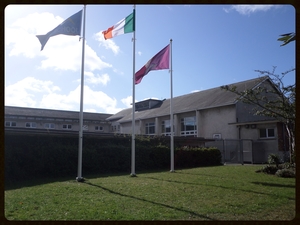 The school was opened by Archbishop John Charles McQuaid in February 1958. In 2008, we celebrated Scoil Assaim's 50th anniversary.
In the 1970s, there were over 1000 pupils in Scoil Assaim; most classes had 50-55 boys, imagine! Now our classes have 25–30 boys in them. The first Principal of Scoil Assaim was Mr. Ingoldsby; he was in charge from 1958 – 1978.
The next Principal was Mr. Sheerin. The present Principal is Ms. O'Donovan who came to Scoil Assaim in December 1994. We have lots of famous past pupils and teachers: Roddy Doyle; Alan Larkin; Harry Bradshaw; Mr. Quinlivan; Mr. O'Hara; Mr. White. One of our teachers is Liam O'Connor, a famous fiddle player.
To find out about the history of Raheny's first primary school: Click Here